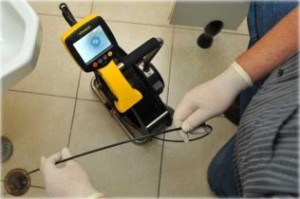 We are your trusted experts for residential, commercial and industrial sewer and drain cleaning in Massachusetts and southern New Hampshire.
At Tyngsboro Plumbing & Heating, we provide low cost, speedy and trustworthy, services to our clients 24 hours a day, 7 days a week. We offer free estimates and our sewer and drain services in are 100% satisfaction guaranteed.
Residential Sewer and Drain Cleaning Services
We can take care of your residential sewer and drain cleaning for problems both big and small. Our drain cleaning technicians are experts in the simplest of repairs such as unclogging drains and to larger services like sewer leak repairs and broken storm sewer repairs.
Available 24/7, our sewer line cleaning services are both affordable and efficient at unclogging drains. We are also available for many other residential sewer and drain services such as:
Toilet Repair
Drain Plumbing
Cracked Drains Repair
Hole in Drains Repair
Laundry Drain Lines
Basement Floor Drains
Shower or Tub Drains
Yard Drain Line Repairs
Commercial / Industrial Sewer & Drain Cleaning Services
Sewages blockages can come about in a number of ways including invading tree roots or overflowing grease trap interceptors. As the best industrial and commercial drain cleaning company, we can fix garbage disposal clogs, inside main lines, kitchen sink lines, and provide sewer mainline cleaning.
Our commercial sewer cleaners are also available to repair problems with drain lines by performing specialized sewer line thawing.
Drain stoppages and blocks will no longer be a problem after contacting us.
TV Pipeline Inspection
The latest in Electronic Radio Detection Line Locating and video pipeline inspection is exactly what our residential and commercial customers receive when they contact us for a TV pipeline inspection. We are proud to provide our customers with the best in drain video inspection services.
Our detailed video pipe inspections get to the root of your problem. Our video camera inspection contractors utilize push camera technology to inspect drain pipelines from 3″ to 6″ in diameter.
Our video camera inspection findings can be documented on VHS or DVD to assist you with drain maintenance.
Water Jetting
The expert drain repair specialists of our company are the best in reversing problems associated with unclogging drains.
For blocked drain repairs, we unclog drain pipes with our sewer jet service. Using high volumes of water known as hydro jetting, our drain repair contractors remove all buildup and debris to unclog drains in homes, businesses, and restaurants. In most cases, high velocity water jetting is more effective at cleaning drains than traditionally used snaking methods.
If you need restoration of free flowing drain functions, call us to perform blocked drain repairs with our top-rated high velocity water jetting. Water jetting can also be used to cut tree roots and sediment to repair sewer lines.
Grease Trap Cleaning
As the most highly-rated drain cleaning company, we also offer our customers grease trap cleaning services. We will provide grease trap maintenance to ensure your restaurant is not shut down or becomes backed up by septic line backups, clogged drains, or overflowing grease trap interceptors. Our grease trap company pumps out restaurant grease traps to remove all fats and oils and scrape your grease trap clean to eliminate the risk of unpleasant odors in your business. We will also ensure the pipes in your business will closely follow all regulations for grease trap maintenance.
We also recommend grease trap cleaning services to any hotels, school dining facilities, and commercial cafeterias.